GPS On-site Installation process
Wastewater treatment can be a little complex at times, that's why we have a specialised installation process for each customer.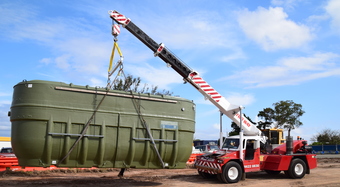 It involves the following:
Ensuring the project commences and is completed within a time frame that suits you.
Avoiding any fines with our customer engagement process.
User friendly operational and maintenance equipment.
Lower running costs.
Commissioning & Compliance Certificates
Comply with all wastewater regulations
Staff training.
Fly in or remote installations are no problem. Just talk to our friendly staff, and they will organise a custom installation process that suits all your requirements.
The many years in the industry has allowed GPS Environmental to pass knowledge to our customers and staff, who are specifically trained in the wastewater industry.
Step 1
Project Design Proposal
Our professional, experienced and friendly staff will meet you on site at a time that suits you. They will help by discussing all your needs and offer you different options that will suit you and your budget. We are happy to travel if required.
Step 2
Creating your project design
We provide an initial design to assist you with more clarification on your project. This includes the correct flow rates, to ensure you have the correct size system, and to ensure that your budget is taken into account. Once you are happy, we provide full hydraulic engineered drawings, necessary paper work to assist with all Tradewaste and Council approvals.
Step 3
Manufacturing and delivery
We begin building your wastewater treatment system. All our equipment comes professionally packed and transported to your allocated destination.
Step 4
Installation
Once we arrive on site, we commence installing the system using qualified trained staff. We test and commission the entire system. We then train your staff on the system running procedure, maintenance and breakdown sourcing. Ensure your running costs are minimal.
Customer installation
If you preferred to install the system yourself, we help guide you from start to finish using your preferred local contractors.
GPS will meet with your staff/contractors to explain the installation process and answer any questions that are needed. We also go through any wastewater regulations that relate to your project.
This is why our system are designed for easy installation by using one of our ready to go skid mounted systems. In some cases we can supply pre plumbed equipment.